2nd November 2019, h. 23.00
Teatro Satanico live @ MUTABOR

улица Шарикоподшипниковская дом 13 стр 32, Moscow (Russia) 115088

within µ Rituals festival
too many other projects and bands to name them all…
so you can get more infos here:
https://www.facebook.com/events/3561088510571581

about us, well, we are going to play live tracks taken exclusively from our new album THE TUNNELS OF SET (see below) : no repertory tunes allowed!!!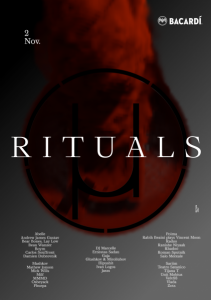 ++++++++++++++++++++++++++++++++++++++++++++++++++++++++++++++++++++++++++++++++++++++++++++++++
7th November 2019, h. 20.30
Devis Granziera live @ CINEPORTO di Bari presso la Fiera del Levante, Lungomare Starita 1 , BARI (Italia)
all'interno del festival Eicoolsat - "Acquology. Oceano Interiore_MarTe"
Musiche elettroniche su cinema d'autore.
Nelle sedi dei cineporti di Puglia, Bari e Lecce, 2 appuntamenti di cinema d'autore sovietico risonorizzato dal vivo da compositori di musica elettronica sperimentale.
Il primo appuntamento a Bari giovedì 07 novembre con il film "Il colore del melograno" di Sergej Parajanov, 75 min. , 1968, risonorizzato dal vivo da Devis Granziera (Lunus, Teatro Satanico, Necrophonix) con interventi di Leandro Pisano e Gemma Lanzo.

https://www.facebook.com/events/540565740032936/?event_time_id=540568093366034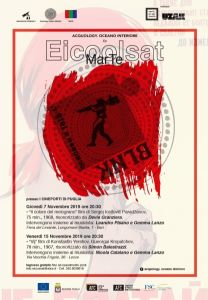 ++++++++++++++++++++++++++++++++++++++++++++++++++++++++++++++++++++++++++++++++++++++++++++++++

30th November 2019, h. 21.00
NECROPHONIX (Davide Tozzoli " N. " + Devis Granziera del Teatro Satanico)
live @ Cinema Teatro Busnelli, Via Dante, 30, 36031 Dueville / VICENZA (Italia)
all'interno del festival ELECTROFF 02 : SHAKESPAWN
Info + dettagliate qui

https://www.facebook.com/events/2267149676716260/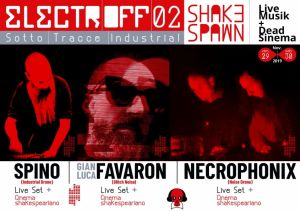 ++++++++++++++++++++++++++++++++++++++++++++++++++++++++++++++++++++++++++++++++++++++++++++++++
THE TUNNELS OF SET
new 2xCD album by TEATRO SATANICO
released by OLD EUROPA CAFE

It was a long time ago that Teatro Satanico delivered some Ritual post-industrial noise, and many aficionados were waiting for a their return to their primal and raw analogue sounds...
Well, now THE TUNNELS OF SET catch Teatro Satanico in one of their beAst raw magicKal act.
Inspired by a book of Kenneth Grant, this Satanick Musick will walk you down the tunnels of the darker realms reflecting the inherent shadow side of the Tree of Life. Combining analogue organic drones with shamanic percussive elements, dark ambient textures with harsh noise blasting, black ritual spells with kosmische layered lines, these Teatro Satanico tracks blur the boundaries between MagicK, MusicK and Consciousness.
All musick by TEATRO SATANICO featuring additional contributions by magician and musician Roberto Milusic Migliussi , Frl. Tost from Novy Svet Austrian duo, internationally acclaimed electro-acustic music maestro Simon Balestrazzi , Giovanni Mori of LE COSE BIANCHE Italian noise act, and Cosey Sforza from Apulian Kollettivo KHEM.
here
http://www.teatrosatanico.it/it/discografia.html?d=the-tunnels-of-set.html
++++++++++++++++++++++++++++++++++++++++++++++++++++++++++++++++++++++++++++++++++++++++++++++++
OTHER RELEASES YOU MAY HAD MISSED :
---- DEISON + DEVIS - Uncut
EP mini CD-r, limited edtion, released via OLD EUROPA CAFE ( oecdr070)
After their first collaboration in 1997, Cristiano Deison and Devis Granziera (Devis is probably better known for TEATRO SATANICO), two historical names of the Italian experimental industrial scene find themselves together again for a new collaborative work. An EP entitled "Uncut" where intriguing rhythms and complex structures are wrapped with rough sounds, unsettling voices and a swarm of cybernetic noise. 100 copies (CD-r Uncut) with minimal art-work in transparent Jewel-Case & Sticker. Sounds assembled and recorded during January 2019. Mastered by Devis Granziera at Devils Home Studio in Bassano del Grappa (Italy)
tracklist:
1. UNCUT
2. H
3. CLOUD
4. UNIX
http://www.teatrosatanico.it/it/negozio/side-projects/deison-devis---uncut.html


https://www.oldeuropacafe.com/catalog/category/uncut.html
---- Necrofilia - Necrofilia
(Devis Granziera + Marco Corbelli)
Limited to 40 hand-numbered copies audiocassette edition. Housed in a black jute bag.
tracklist:
A1
She It
5:10
A2
Fenoplastica
4:19
B1
Nictofilia
3:46
B2
Rot Und Tot
5:05
released by Death in Venice Productions
deathinveniceproductions@hotmail.com
---- NECROPHONIE - Live in Tokyo
(Devis Granziera + Marco Corbelli)
Recorded live in Tokyo on 3rd December 2006
LIMITED 50 COPIES Hand Numbered
released by Death in Venice Productions
deathinveniceproductions@hotmail.com
NECROPHONIX – Tavola Anatomica XI
Full-length cd-r album released by TAVOLE ANATOMICHE
The series of Tavole Anatomiche (anatomic tables) is mainly based on the engravings of Giulio Casseri and Andrea Vesalio.
Each Tavola Anatomica (anatomica table) is entrusted to a different artist, which provides his particular vision of the theme.
Each Tavola, belonging to a series, has a common part (the cover face and the back -this one different for the notes only-) and a different part for each artist (the inside of the table with anatomical engraving).
The covers are printed on paper of 200 grams, closed with dimensions of 13,50x21,70 cm. about 40.50x21.70 cm. about. In the center of each table there is a small appendix with the incision of a different anatomical detail that is different for each volume of the series.
The front of the cover in cutted on the center, and has a different cut for each volume, which allows you to see a part of the inner anatomy.
The cover is sealed with a fabric tape that holds a plexiglas blade and plastic needle with black thread.
Inside the cover are some small inserts related to historical images of the anatomies, and two cards with the copy number (each copy has a double insert with number of copy), all is collected with a piece of gauze closed with a patch. One of the coy number is a toe tag with a black ribbon.
Each Tavola Anatomica is strictly limited to 36 nunbered copies, and has different color of plexiglas blade, ribbon and plastic needle, and a different form of cut on front cover.
This table
Plexiglas blade: white
Ribbon: azure
Plastic needle: blue
Cut on cover: rectangle
Necrophonix are Davide Tozzoli and Devis Granziera
All these tracks have been specifically conceived and composed for Italian industrial music festival Destination Morgue X (The Last Edition)
All tracks recorded in Calvario Studio and in Devils Home Studio, except Necroma 07, recorded live at Whishlist Club, Rome, November 3rd 2018
Audio mastered by Devis Granziera at Devils Home Studio
Contacts:
Tavole Anatomiche: lykaukas@yahoo.it
https://www.youtube.com/watch?v=PE_U8KQ0Y74

---- LUNUS - The Slaughter Years (1993-1996)
Full-lenght cd-r album released by BeTon & Death In Venice productions
Limited edition 40 copies.
This is a selection made by Lunus himself of tracks previously released by Slaughter Productions.
The package is completely handmade.
Cdr is housed inside a metallic box made with steel wire. Ourside the box there are five nails joined together and cut from a reel for a nail gun. The nails are spray-painted red (effect blood, torn from the flesh), and on the head of the five nails are written the five letters that make up the name Lunus.
Inside the metallic box there are two black envelopes, one for the cdr and one for the two inserts.
One insert has dimensions of 12 x 12 cm. about, in high quality paper thickness 250 grams, wich reproduces the ancient drawing of a death that pulls with the crossbow; the other one is a mini poster with dimensions 31,50 x 21 cm. about, in high quality paper thickness 120 grams, which reproduces the engraving by William Hogarth "The Reward Of Cruelty", taken from the series of engravings "The Four Stages Od Cruelty", and from which Marco Corbelli extracted the detail to create the Slaughter Productions logo. Also the surface of the cdr reproduces the detail used by Marco Corbelli for his label.
All tracks previously released by Slaughter Productions
Tracks 02, 04 and 07 from "Necro Sintesi", Atrax Morgue / Lunus split cassette tape (SPT04, 1993)
Track 06 from "Beating The Meat", compilation cassette tape (SPT08, 1993)
Tracks 01, 03, 05, 10 and 11 from "Necrophiliac Experience", Atrax Morgue / Lunus split cassette tape (SPT16, 1994)
Track 08 from "Slaughter Age 95" compilation cassette tape (SPT39, 1995)
Track 09 from "Extreme Pleasures II" compilation cassette tape (SPT56, 1996)
Artwork and executive productions by Vintras and Antonio Benini
Contacts
BeTon Net: lykaukas@yahoo.it
Death In Venice Productions: deathinveniceproductions@hotmail.com

---- Favaron + LUNUS – Computer Tapeworm
Audiocassette released by St.An.Da. 1915

Limited to 60 copies.
All noises, except for voices, originate from C64 and Vic20 computer programming tape cassettes.
No synths were harmed in the making of these audio-recordings.
tracklist:
A1
If... Then... Else...
A2
Monitor
A3
Catch Fire
B1
Arcadeath
B2
Terminale
B3
Goto
store.silentes.it
https://www.youtube.com/watch?v=HFJfpa_hfN4
https://www.youtube.com/watch?v=Iu8ERiMrnI0
---- KHEM – Magma 4
Full-lenght album released by Show me Your Wounds production & Luce Sia
Limited 190 copies cd edition + digital download

Musik, synths, production & mastering: Devis Granziera
Concept & words: Cosimo 'Zos' Mungheri
Electric guitar: Antonio Iacca
Alto sax: Cosey Sforza
https://lucesia.bandcamp.com/album/067-khem-magma-4
https://www.facebook.com/ShowMeYourWoundsProduction
https://www.facebook.com/LuceSiaLabel