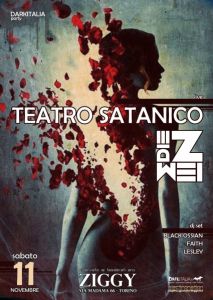 11 Novembre 2017
TEATRO SATANICO + DIE ZWEI
live @ ZIGGY (Torino - Italia)
Ziggy Club
Via Madama 66
TORINO
Concerts start: 21:30
a seguire dj set di
Black Ossian
Faith
Lesley

https://www.facebook.com/events/1995336730702394

++++++++++++++++++++++++++++++++++++++++++++++++++++++++++++++++++++++++++++++++++++++++++++++++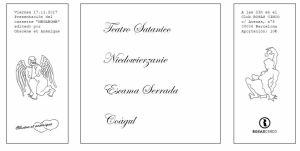 November 17th 2017
Teatro Satanico + Niedowierzanie + Escama Serrada + Coàgul
live @ CLUB ROSAS CINCO (Barcelona - Spain)
Club Rosas Cinco
Carrer d'Atenes 5
BARCELONA
Concerts start: 23.00
Este próximo viernes 17 de noviembre del 2017 tendrá lugar la presentación de "MEGABOMB", un split a cuatro bandas que publica el sello francés Obscène et Anémique en formato cassette. La premisa básica para este recopilatorio era que los músicos participantes, todos pertenecientes al contexto de lo que se ha venido a llamar música electrónica post-industrial, aportaran temas que sacaran a relucir su lado más "bailable" dentro de sus límites estilísticos. Para tal efecto, la presentación consistirá en las actuaciones de los cuatro proyectos centrándose en la ejecución del material que cada uno haya aportado a la cinta.
Sin más preámbulos, estos son sus nombres:
TEATRO SATANICO (Venecia, 1993)
NIEDOWIERZANIE (Marsella, 2008)
ESCAMA SERRADA (L'Ametlla del Vallès, 2008)
COÀGUL (Barcelona, 2009)
El lugar elegido será ni más ni menos que el Cinco Rosas, uno de los más selectos clubes BDSM de la ciudad condal.

https://www.facebook.com/events/506239236383364

++++++++++++++++++++++++++++++++++++++++++++++++++++++++++++++++++++++++++++++++++++++++++++++++

in Tony Dickie's COMPULSION MAGAZINE a review of FRIENDS & FIENDS, latest full length album by Teatro Satanico
http://compulsiononline.com/TeatroSatanico_FriendsandFiends.htm
Teatro Satanico - Friends and Fiends
I think this has been out quite sometime but it's been ages since we've covered Teatro Satanico. In the past Teatro Satanico have sung about Austin Osman Spare, Jack Parsons, Pasolini and even the child conceived between Satan and Rosemary Woodhouse in the Roman Polanski film of Ira Levin's novel Rosemary's Baby. Friends and Fiends features tracks devoted to and inspired by occultists, artists, poets, terrorists, serial killers, porn stars and others who have made a mark on this Italian group active since the early nineties. They're are some dubious characters featured in Friends and Fiends but really what do you expect from a group who used to go under extended names varying around Teatro Satanico Charles Manson. Friends and Fiends evolved from a number of tracks that have appeared elsewhere but they've been recomposed and reconfigured into new forms making this something of a new album.
Much of Friends and Fiends bustles to Teatro Satanico's more electro-rhythmic pieces but they also adopt some different approaches where they really come into their own, highlighting their musical influences as they shed light on their multifarious inspirations. Friends and Fiends opens to 'Ulrike Meinhof', the German far-left terrorist and member of the Red Army Faction, with its pulsing electro beats and distant vocals. 'Disco Cianciulli' opts for a minimalist techno sound, firing off frequencies and electro bleeps over quavering beats as rougher vocals slightly treated intone the lyrics about Leonarda Cianciulli, a famous Italian serial killer who drugged, murdered and then disposed of her victims bodies by boiling them in caustic soda before turning them into soap, earning her the nickname the "Soap-Maker of Correggio". 'Ilse Koch', meanwhile, offers pumping electronics amidst spirals of dense guitarwork and twisted vocalisations. By this point we've dealt with a German terrorist, an Italian serial killer and Ilse Koch, the wife of the commandant of the Buchenwald concentration camp who also earned the distinction of being named in a title of an early Come Org compilation album. By this point it might seem that Teatro Satanico have laced the music Jim Jones Kool-Aid style with appealing rhythms and beats for the more dubious characters on Friends and Fiends. That's not so though. 'Sonido de Independencia' is part EBM and part synth-pop, as they sing of Leonid Ivanovic Rogozov, a Russian doctor who while stationed in Antarctica performed self-surgery and successfully removed his appendix.
Likewise, Friends and Fiends is at its best when Teatro Satanico remove the expected elements in the form of beats and rhythms and frame the characters in amongst other appealing musical settings. For instance, the second track, 'La Sophiale De Montparnasse' is a slow electro ballad wrapped around glinting sweeping synths draped in powerful wailing from Lady Ghost Laura Agerli and the deep tone accompaniment of DeVis dedicated to Maria De Naglowska, a Russian sex-magician and author who mixed with the Surrealists in Paris during the 1920s and 1930s. The influence of Coil seems to steep into the music of many Italian musicians we've reviewed such as Maria Nascenti and TAC and there light still seems to shine here. The Euro ballad 'Mondo Cane' with its aching vocal over atmospheric synths would have fitted nicely on Black Sun Productions' OperettAmorale, where they interpreted the works of Bertolt Brecht. Of course this one isn't written by Brecht but here Teatro Satanico tackles Yves Klein's troubled association with the "shockumentary" exploitation movie Mondo Cane which provided a distorted take on his blue painted models pressing their bodies against massive canvasses. We're still in the Coil universe on 'Virginia' where slow textured electronics, atmospheric synths and guitar arpeggios give way to slow, accented voice reciting T.S. Eliot's poem Virginia. There's nothing shocking here and it is clear Teatro Satanico are moved by Eliot's words on the struggles of life.
Backing up a bit, 'Under The Bamboo Tree' is based on another T.S. Eliot poem where a bizarre concoction of voices are treated, stretched and layered over a percussive interplay of Laurie Anderson styled drums and electronic rhythms attaining something of an oriental feel. Sombre electronics feature on 'Nero Viani' where the low pitched spoken and serene vocals are based on the Ostia born Italian artist and writer Lorenzo Viani whose work focussed on outsiders in the form of the poor, despondent and mentally impaired. 'Void' concerns itself with the anonymous S.V. and the chiming electronics are heightened by choice lyrics such as "Put your finger, put your finger up your... fuck your soul". Whoever S.V. is/was they must have been quite a character.
Towards the end Friends and Fiends veers between a 19th century Satanist and a seventies porn star. The Hi-NRG electro strokes of 'Mary Mary (Come Play With Me)' are accompanied by teasing lascivious couplets dedicated to Mary Millington, while 'Là-bas' combines passages of atmospheric textures and electro sequences that figure through-out Friends and Fiends, as Teatro Satanico invoke the spirit of J.K. Huysmans.
Perhaps Teatro Satanico have never received the attention they deserve as their lyrics for the most part are delivered in their native Italian tongue. It's a shame as Friends and Fiends, much like their other material is engaging, sometimes serious and sometimes darkly humorous. It's as musically diverse as the personalities covered. Friends and Fiends is something of a history lesson but it is an enlightening peek into the inspirations and influences of this long-running Italian project.
the cd album is available here:
http://www.oldeuropacafe.com/en/catalog/category/friend-finds.html
or here:
http://www.teatrosatanico.it/it/discografia.html?d=friends-fiends.html

++++++++++++++++++++++++++++++++++++++++++++++++++++++++++++++++++++++++++++++++++++++++++++++++

BEES , new K7 album by "DE is on & DE v is"

LUCE SIA is particularly proud to announce its release n. 042, out today!!
After a split cassette in 1997, «Bees» is in fact the first collaboration ever between the two historical Italian experimenters Deison and Devis G.
Deison and Devis worked meticulously, but in an instictive and natural way to this project, inspired by the natural order of things, by bringing piece after piece sounds, texts and rhythms, gathering them together to build a complex structure, like bees do.
Out in a limited edition of 60 numbered copies, with download code!

for infos and contacts:
or
https://www.facebook.com/LuceSiaLabel